For Immediate Service Text (618) 688-4642
Open Monday - Friday: 7:00 AM to 4:00 PM
Trust Full Circle for All Your Auto Repair Needs in the O'Fallon, IL Area
Many consumers find it difficult to find an auto repair shop that they feel comfortable taking their vehicles to. At Full Circle Auto Service, however, you'll find yourself put at ease from the moment you step through our doors. We've been serving the O'Fallon, IL area for over 29 years, and our results have created numerous satisfied customers. Our veteran and family owned business is committed to serving our local community with quality, convenience, and reliability.
Auto services we provide include:
· Air Conditioning Service
· Lamp Inspections
· Brake Repair
· Cooling System Services
· Computer Diagnostics
· Exhaust Systems & Mufflers
· Power Accessory Repair
· Power Steering Repair
· Pre-Purchase Inspections
· Shocks & Struts
· Suspension & Steering
· Axle Replacement
· Clutch Repair
· Driveline Maintenance
· Transmission Service & Repair
· Flat Tire Repair
· Tire Replacement, Balancing & Mounting
· Wheel Repair & Alignment
· Oil Change Service
· Preventive Maintenance
· BG Services
Our Auto Repair Service We Offer
Make sure that your vehicle can handle the area's cold winters and hot summers. Full Circle can inspect your vehicle's comfort system to guarantee its effectiveness!
Tire rotations, oil changes, fluid flushes - our expert mechanics can give your car or truck the care it needs to keep it running smoothly year round!
A quality tire can mean the difference between stopping short and not stopping at all. Trust our crew to help you choose the perfect set of tires for your vehicle!
Your vehicle's brakes are a vital component of your everyday driving routine. Let us provide the proper maintenance to ensure their function and your safety!
When your car is up for maintenance, let us take care of it.
Trustworthy and Friendly Auto Service!
Servicing both foreign and domestic vehicles, we're a one stop auto repair facility offering a complete selection of repair and maintenance services. The safety and dependability of your vehicle is our number one priority! Your car or truck is not simply a means of travel, but a serious investment that often contains your most valuable assets. For that reason, our skilled team use only quality auto parts from trusted brands to keep your vehicle reliable and running smoothly.
If your car or truck is causing you concern, give or shop a call Monday through Friday from 8 am to 5 pm. Our courteous staff is standing by to schedule a service appointment and consult with you on your vehicle issues. Additionally, if you're concerned about your busy schedule, we offer a complimentary shuttle service to transport you within the local area. Our commitment to you and your vehicle is unmatched. Come see why we've been the area's dependable auto repair shop since 1993!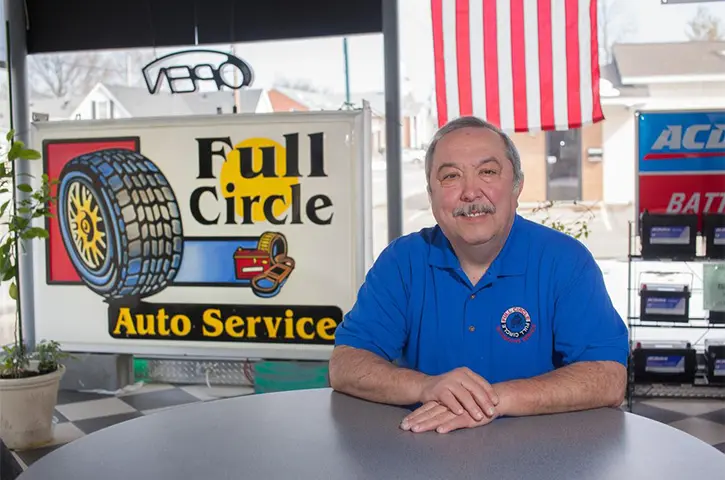 We are a full-service auto repair shop, dedicated to making you feel safe and comfortable on the road. We service your vehicle for service and reliability.
What Our Customers Are Saying
Carlos and Mike run the best car repair shop I have ever been to by far! I am moving to another state for work and the worst part about moving is not having Full Circle to take my cars to anymore!! Please do yourself a favor and take all your cars here to get repaired. You will save tons of money and your cars will be well taken care of and will get fixed right!!
Great place.
Great help. Great prices. Great job done over and over. Thanks!
Great service at a great price 👍
Great guys who are trustworthy and have been local for decades. The hours are limited so you need to plan ahead, but we only go to them for auto maintenance.
Excellent service and such friendly staff. In a world where manners and decency between people are less valued, I'm glad there's some people who are still nice! The Perezes are ho est and will treat you like friends. I am proud to give them my recommendation. They helped my car get back on the road better than before.
The place is awesome. The owners are very helpful and the work is done right.
Excellent place to fix your car
The service here is phenomenal and the prices are even better, the mechanics do an amazing job of explaining what they're doing and even provide screenshots.